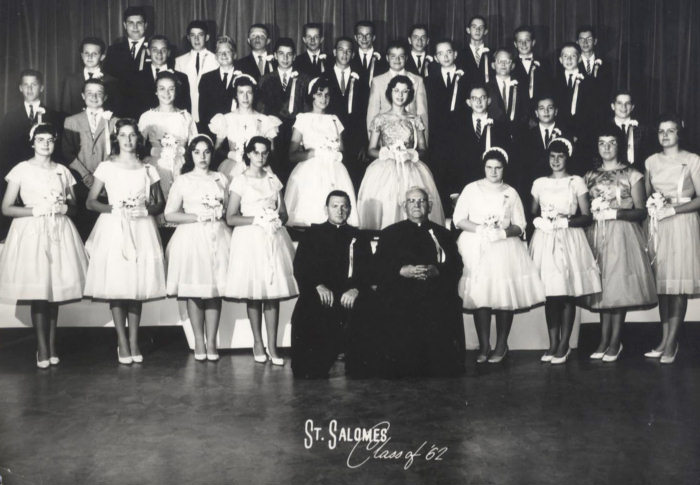 Click on this image to see it in full size (double size and very clear for an old photo).
Top row, from left: Stuart Mackie, Dan Pietscher, Greg Wroblewski, Gary Torrey, Duane Howe, Tom Costello, Phil Wyand, Joe Hall, Steve Gorski
Second row from top, from left: Brian Klos, Mike Dwyer, Don Loos, Dave Markham, Ron Helminski, Ron Adams, Jim Walters, Gerry Lamb, Chris Barry
Third row from top, left to right: Don Monacell, Jim Hilberer, Diane Albright, Maria Smits, Joyce Stocklein, Carol Aman, Bob Tomasso. Bob Weaver, Tim Rock
Front row: Donna Stoffel, Diane Reeners, Lonni Dann, Patti Spencer, Father LeFrois, Father Escherich, June Scheid, Debbie O'Bine, Paula Schenk, Cathy Cappon
I apologize for any misspellings. These names are written from memory, 44 years after the picture was taken.

Top row: Tim Rock, Carol Amann, Timothy Denk, Bonnie Caulfield, Jim Hilberer, Debbie O'Bine, Bob Weaver

Second row: Gerry Lamb, Julie Raimonds, Mike Schwartz, Kathy Ryan, Greg Wroblewski, Patti Spencer, Ron Helminski, Maria Smits, Dave Markham.

Third row: Diane Albright, Tony Della Costa, Kathy Janski (spelling is wrong for sure), Barb Herzog, Robert Lape, June Scheid

Fourth Row: Brian Klos, Linda Wyand, Steve Gorski, Joyce Stoecklein, Stuart Mackie, Patty Neits, Chris Barry, Diane Reeners, Gary Torrey

Fifth row: Paula Schenk, Dan Peitscher, Patty Lang, Bob Tomasso, Myrna Renkert, Joe Hall, Donna Stoffel, Mike Dwyer, Cathy Cappon

Bottom row: Ron Adams, Mary-Catherine O'Neill, Jim Walters, Don Monacell, Don Loos, Tom Costello, Tony Giambrone, Phil Wyand, Duane Howe

I didn't remember that Diane Reeners was so beautiful.