Virginia Ehrstein Bourdon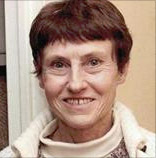 Her obituary. Summarized below.
Ginny Bourdon, born July 25, 1948, passed away peacefully on October 17, 2012. Although a native of Rochester, NY, she worked for 27 years for the Defense Supply Center in Richmond, VA. She greatly enjoyed singing in the St. Edwards Catholic Church Choir. She received degrees from Nazareth College (Cum Laude), Boston College, and the Rochester Institute of Technology (Highest Honors). She and her husband Richard had a deep and wonderful love for each other during their 10 years together. They enjoyed retiring to the Va. Beach waterfront community, Ocean Shore Condominium in 2007. Ginny loved her long walks, aerobics at the City's excellent recreation centers, volunteering at the City's Animal Adoption Center, working at the food pantry of her church, and the Red Cross. She loved to travel. Ginny was such a kind and gentle person (an eye bank donor) that she made many, many long-lasting friends. In addition to her loving husband Richard, she leaves behind a brother, Jim Ehrstein of Rockville, Md., a sister, Rosalyn Deutsch of Rochester, and many relatives.
Her own entry at classmates.com
After graduating from college with a BA in Sociology, I went on to get a Masters in Elementary Education. I decided teaching wasn't the route for me and, while working at one of my former jobs, got an MBA from RIT. In 1982, I left Rochester to work for the Defense Logistics Agency. After a year of training in Columbus, Ohio, I was sent to Richmond, Virginia, to work at the Defense Supply Center Richmond. I was in several positions, but the longest-lasting one was as Inventory Manager. DLA supplies all the armed services with the consumable items that go on any pieces of equipment they use. Our group handled bearings, thousands of different ones used on planes, aircraft carriers, tanks, etc. I was single until 2005. I met my husband to-be two years earlier. Since our wedding occurred around the same time as his retirement (he worked for the Congressional Research Service in DC), he moved to Richmond. We lived there until last July (2007) when I took early retirement. We moved two hours south to Virginia Beach, where we bought a condo that is about 250 feet from the beach. We live on the Chesapeake Bay and have a beautiful view out to the beach from our balcony as well as a direct view of the pool. We really like it here and have made many new friends. I keep very busy between keeping fit and doing a lot of volunteer work, among other things. I've only been to a couple BK reunions and the last one was years ago. However, I'd love to hear from any former classmates who are interested in re-establishing contact.