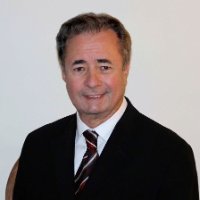 Chris's words, updated May, 2017:
New Home address: 16235 E Glenbrook Blvd., Fountain Hills, AZ 85268
Finally (after 31 years) sold the old homestead in Irondequoit in 2016.
Only phone: (585) 944-6957
Still working as a lawyer. Still Admitted in both AZ and NY.
Live in AZ and commute to work in NY at office in Webster (1050 Gravel Road, Webster, NY 14580)
---
Three sons:
1. Bobby (BK 2000) B.A. Broadcast Journalism. Producer for national news at FOX Broadcasting, NYC. (He definitely has the best car in the family.)
2. James (Eastridge 2004; Varsity Baseball) B.S. Physics from SUNY Brockport. Now married (I performed the ceremony in 2016) and teaches Physics in San Diego, CA. (Still the cool guy that all of us guys always wanted to be when we were his age. )
3. Matt (BK 2008), M. Arch. (Univ. of Minn., 2015) now working at ESG Architects in Minneapolis. Designs the beautiful and practical.
Greg's notes:
Here is Chris's resume!
Here is his LinkedIn page.