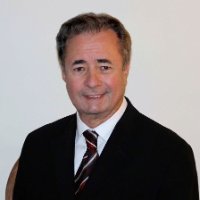 Chris's words, updated February, 2015:
"New Home address: 15817 E Palisades Blvd., Fountain Hills, AZ 85268
Still own and work out of 315 Walzer Road, Irondequoit, NY 14622-2511
phone: (585) 944-6957 and will periodically answer phone at (585) 342-2115
Still a lawyer. Admitted in both AZ and NY
Three sons (only real accomplishments):
1. Bobby (BK 2000) B.A. Broadcast Journalism. Now a Producer for national news at FOX Broadcasting, NYC. (He now has the best car in the family.)
2. James (Eastridge 2004; Varsity Baseball) B.S. Physics from SUNY Brockport. He now teaches Physics in San Diego, CA. ( Still the guy that all of us guys always wanted to be when we were his age. )
3. Matt (BK 2008), B.A. History (Case Western Reserve U.), M. Arch. (Univ. of Minn., 2015). Will design and build the beautiful and practical."
Greg's notes:
Here is Chris's resume!
Here is his LinkedIn page.